The spirit behind great brick oven pizza, Fired Up & Ready To Go pizza crusts, Mach's Mobile Pizza, and awesome fresh food.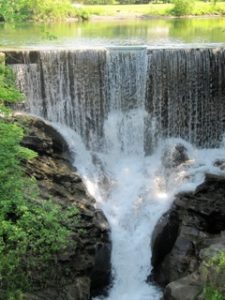 Mach's Brick Oven Wood Fired Pizza is located in the center of Pawlet Village. Conveniently located on the corner routes 30 & 133 next to Mach's General Store, a building from the 1800s that has been in the Mach Family for years. It was DeAnna's great uncle, John Mach who decided to span the Flower Brook gorge with adding onto the original brick building.
While visiting Mach's Brick Oven Wood Fired Pizza not only do you hear the rambling brook from below but also looking across the bridge you see the Flower Brook Falls. In 1982, DeAnna's parents Gib and Doreen Mach installed a hydroelectric plant used for generating electricity produced from the water.
The massive brick oven constructed with 9,000 bricks was designed and built by DeAnna's uncle, Eric Mach who is a mason by trade. The oven burns 42 cords of wood each year.
The retail location in Pawlet not only serves up gourmet, fresh and organic pizzas but bakes the wholesale production
Fired Up & Ready To Go pizza crusts that get sealed and shipped all over New England. All of the dough is made in house from scratch using grains from Vermont.
In 2009 Mach's Wood Fired Pizza went mobile. Now able to expand it's reach and bring the desired and sought after pizzas to the masses. Mach's Mobile Wood Fired Pizza is busy from April – October serving pizza at fairs and festivals all over Vermont as well as catering private parties and weddings.
The Business revolves around hands: hands that grow and harvest the veggies, make the cheeses, shape and toss the pizzas. Hands that cut the firewood." From the beginning, we have been committed to supporting  local community by sourcing local and supporting a sustainable agriculture system. "It's that connection with your hands and knowing the people who produced the ingredients you are about to use that make it a soulful experience." That's the secret formula that makes our pizza so special and delicious.