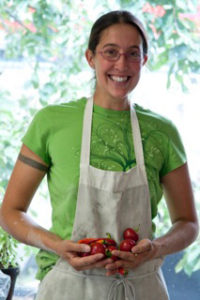 DeAnna can be found on any given day decked out in her Carharrtts, Dansko clogs, and Ibex wear. She commandeers tractors and excavators for her landscaping business. Keeping very busy with cutting firewood to sell and to keep her brick oven blazing hot. She manages many family owned properties in town, plows snow in the winter months, and is also a road warrior in the summer with her mobile oven.
She grew up in Pawlet, a small town,where her family owned and operated the general store, went travelling and decided to come back and invest in a community she is very passionate about.
DeAnna is making a living and looks energized. Fired Up & Ready To Go, a tagline on the pizza crusts that epitomizes the owner herself. A confident entrepreneur who understands the value of family, community, and farming and who has a love for living in Vermont.